PROVEN Bank's Visa Debit Card is connected to your bank account and offers you safety, reliability, account online manageability and the convenience of the global Visa network.
Features
We will happily assist you with selecting the type of account that best suits you.
VISA Global Service
Auto Rental Insurance
Price Protection – USD$200
Purchase Protection – USD$500 per account per 12-month period
Emergency Replacement card
Emergency Cash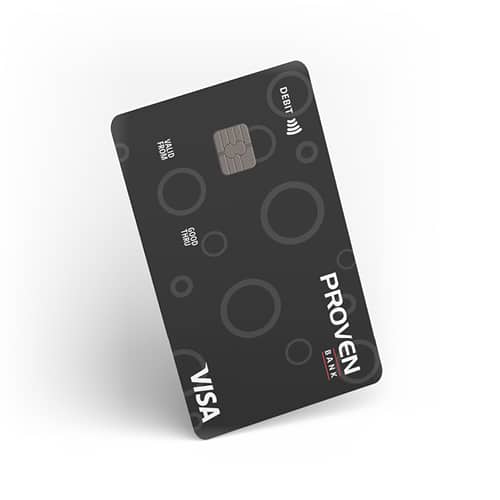 Please send your application form to
info@provenbank.com
for processing by one of our experts.
Benefits
VISA Global Service
VISA Global Service provides emergency card-related assistance, anytime, anywhere, via one toll-free phone call.
Auto Rental Insurance
The cardholder must decline the Collision Damage Waiver (CDW/LDW) or similar coverage offered by the auto rental company.
Price Protection
The Visa Price Protection program helps you get the best Price you can find on most products you buy with Your Eligible Card with this benefit. Simply pay for the entire cost of the product with Your Eligible Card and if, within 30 days of the date You purchased the product, You see either a Printed Advertisement or Non-Auction Internet advertisement for the same product (same model number and same model year) by the same manufacturer, in the same market*, for a lower Price, We will refund You the difference, up to the benefit amount per item (and per account per twelve month period).
Purchase Protection
VISA Cardholders with this coverage can benefit from the security and safety offered through VISA Purchase Protection, an insurance program. If something you bought with your Card is damaged or stolen within 45 days of purchase, chances are you're protected. Most new purchases are covered against theft or damage for a full 45 days from the date of purchase.